Last words about the JWGC
with 2 French and 2 Czech pilots [ "we" fly in pairs nowadays!] in the top 3 and a Swiss and Dutch pilot [ very proud on Peter and all who accompanied him through the years  to this success] , it was a nice mix of countries , with  this time not the dominance of the mostly big providers from champions as Germany [ 1999 x 2, 2003 x 1, 2005 x 1, 2007 x 1, 2009 x 2, 2011 x1]  as well as the UK. [ 2001 x 1, 2003 x 1, 2005 x 1 ]
BUT…..that does n't say anything for 2015 in Narromine. So we can look ahead at a new great JWGC in Australia with experienced young pilots , but also with "fresh new blood".
Reading now what they all think whilst looking back is ; that it was a fabulous 3 weeks, for winners but also for those on the bottom of the scoring list, for crews TC's , coaches and even for all interested readers.
Lots of experience gained, lot's of new friends made. That's what it is all about!
I can advise you the blog from young UK pilot Charlie Jordan  [good reading] who looks back his way at :
http://www.glidingteam.co.uk/?q=blog/last-day-and-comp-review-868
I did not write a lot about Boyd Willat representing the USA in Leszno, but he gets the last words:
–"Had a amazing trip in the JWGC 2013 Poland! Met a lot of GREAT people, learned a lot of lessons in the air, and most of all I had fun.  I would like to that everybody who helped make this experience happen, without your donations this wouldn't be possible.  Sadly I wont be bringing a medal home but with what I have learned I hope to be a contender in Australia 2015.  To the other juniors flying and starting to race, GET GOING!!! We need to send a full team in 2015.  Even though team Great America was fun.–"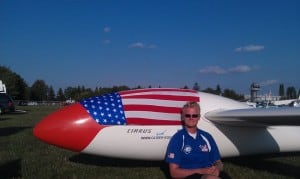 Boyd, as shared on FB.
The CIM
On Sunday,  when I had time to follow the CIM again, it was till then after 5 days, New Zealand on top overall in standard class with John Coutts on 1 , Ben Flewett on 2 and UK pilot Jay Rebbeck on 3. The other 13 followed amongst them Vittorio Pinni, [Italy on 6] Rene Schneebelie, [Switzerland on 8] , Reinhard Haggenmüller [ Austria on 10 ] and another Italian friend Manuele Molinari.[on 14]
John was  553 points ahead of Ben when day 6 started!!! So he could allow himself a mistake. When he was not scored in the evening, I thought maybe he outlanded, but no he was 8th loosing just over 100 points on the number 1 and he easily could afford that.
In 15 m. also New Zealand on top in , what New Zealands well known chief editor from Gliding International called "the mecca for soaring" Rieti.; with Dane Dickinson as daily winner on Sunday  and through that he ended on spot 2 overall after 6 days. [ 4935] Former WGC champion Leigh Wells from the UK  was overall on spot 1 after 6 days, [5451] with Ricardo Brigliadori on a 3d place [4869] .
Also 18 m. was interesting with after 5 days still Peter Hartmann on top overall with 3967 points winning 3 days. On Sunday [ day 5 for them] he won again;  another 1000 points added this time for  a 398 km racing task.
In open/2 seater after 5 days still team Leutenegger on top [4837] with Giorgio Galetto on spot 2 [4653] . Both fly ARCUS T. First single seater is the Ventus 2CM with Thomas Gostner on 4.[4105]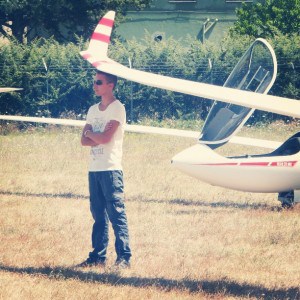 Waiting on Monday!
As shared on FB by Massimiliano Moricci.
CIM on Monday  ;
Standard class went for 309 km. winner Rene Schneebeli,with speed 126.3 km./h.  before the 2 NZ pilots.
15 m. for 320.8 km. winner Leigh Wells with 120 km./h. his 4th daily-win.
18 m. for 352 km. winner,…no….not Peter Hartmann [ he was 2d] but Louis Bouderlique this time with 132 km./h. and Afandi on 3.
Open/2-seaters. also with 352 km. Winner here was Stefano Ghiorzo with his co pilot. Late starts around 14.40 and an off-day for Alvaro with an outlanding after 201 km.
In the evening at 6 the organisers got an alarm from the PLB from one of the standard class pilots. SAR and forest  rangers, mountain rescue and police, all were active in a flash.
At midnight they found the pilot alive , in the glider on the top of the trees South from Polverina Lake, according to the message from Clara. She is not only a nice girl but also writes GOOD, unfortunately for all of us not always in English[news at www./soaringspot.com .]
I do remember, when I was there that they were searching for 2 days  for an Austrian pilot a few years ago. Sadly enough he did not survive!Luckily this incident only finished in hospital for checks and minor injuries .Pffft….
SAR, as seen a couple of years ago. TERRIFIC GOOD people!
CIM on Tuesday day 7/8;
club class 308 km. Winner Lucio Bordin
standard class 356.5 km. winners John Coutts and Reinhard Haggenmüller
15 m. 385 km. 1. Denis Guerin 2. Leigh wells, 3. Dane Dickinson 4. RicardoBrigliadori
18 m. 396 km. Best 3; copy from day 6. Louis, Peter , Afandi.
open/2 seaters  396 km. First 2 places 2 Swiss ARCUS teams, then Giorgio and another Swiss team, in EB 28 this time.
2013 UK open class and standard class Nationals
were flown in Aston Down from August 3 till August 11 2013  and organised by the Cotswold Gliding Club. Missed that one due to the JWGC, but look with pleasure back at the results as UK Nationals are ALWAYS interesting, with strong competitors.
Open class had 12 participants with toppers as Pete Harvey , Andy Davis  and Russell Cheetham , as well as  Richard Kalin, who flew in the past a lot in Tocumwal.
Who also flew in the past in Tocumwal is Standard class pilot Alison Mulder, who even learned there to fly cross country .She is one of 17 , with toppers as Howard Jones who flew in Uvalde and Ayala Truelove who finished on the silver spot during the last WWGC.
And if I remember well Russell Francis , in this class, flew with us in the past too.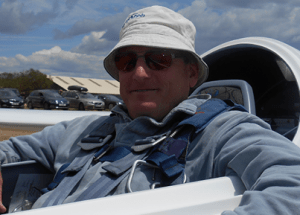 Russell.
As shared on FB by Sven Olivier.
3 JS1 C /21 m. gliders in the top 3 after 6 days of flying in open class and 2 scrubbed days, when the last day started last Sunday.
Andy Davis who won 2 days and was 2d on 3 other days .
Russell Cheetham who won 2 days.
Iain Evans with a  one day-win on day 2.
So they needed to secure their spot 1-2-3 ranking on that last day.
AND they did!!!!! Andy WON the last day as well being 11 km./h faster than the daily- runner -up Russell and Pete was 3d but that was not enough to be on the podium . He ended on spot 6 overall, after loosing in his Nimbus 4 T, most points in the beginning and on the last but one day.
In standard class 3 scrubbed days and in the top Howard Jones [Discus 2] , Richard Hood [LS8] and Paul Fritche [Ls 8] each winning a day and Howard even 3 !!!!BUT,… here something went wrong on that last day, as Howard finished on a 2d spot Richard won and instead of Paul it was David Bromley on 3!!!
Interesting to analyse  what happened on Sunday on the  last day in standard class ?????
First the time difference in start was BIG; ONE hour between the first starter at  13.58 and the last pilot departed at 14.57!!! But it was all about Howard, Richard and Paul and they started within 8 minutes from each other.
The last starter did not make it home and landed after 174 km. Richard won the day and "got" 867 points whilst Howard finished on spot 14 , gaining only 570 points. That was enough for Richard to win.[4900 points] Howard was runner up [4754] and David flew a bit better than Paul and beat him overall with 9 points.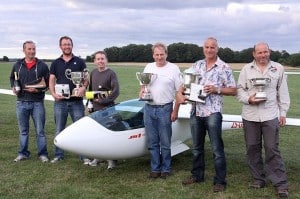 All winners in both classes.
Courtesy Jonker Sailplanes , proud on their 3 winners in the JS 1C . So they should!
Bailleau
This is a friendly "open" competition still with good/high level pilots . As usual ,a lot travel up  from Holland!
20 Pilots  in the VITESSE [speed] class  and 8 in the "amical" class and another 20 in the GRAND VOLS class [big flights].
They started on August 6 and continue till Sunday.  They had 3 days of soaring and 3 scrubbed days, when I had time to "dive" into it.
After those 3 days the 2 ARCUS gliders  were on top; Dutch dealer for Schemmp-Hirth and open class pilot for Holland on WGC's and EGC's , Francois Jeremiasse and for Germany good old Sigi Baumgartl .
In the other class the Duo Discus from Eindhoven in Holland was in the lead , flown and shared by 3 pilots.
The GRAND VOL class had on day 3 a 6 hour 30 AAT [  475,0km/793,6km (632,0km)] which was won with 668 km. by French pilot Eric Garnier in a Ventus 2C 18 m. Dutch pilot Leon Mol flew 705 km. but in a Quintus M, so he finished that day on spot 5.
On Monday small tasks [results at www.soaringspot.com] and yesterday bigger again with 389.6 km .in the speed class  and 503 for those who liked the " long flights" and nearly all pilots finished.
Today's tasks have been set;
Amical 300 km. ,Vitesse 5 hour AAT!!!!!, Grand Vols 464 km.
Lüsse
The German Nationals in club- and- standard class started yesterday in Lüsse and continue till August 22. 85 Participants in 2 classes including some international pilots started with a 2 hour and 2.30 AAT , some building up from cloud streets and local showers later in the day.
Amongst the 42 pilots in standard class; Enrique and Filipe Levin, Mario Kiessling [first Junior World Champion in The Netherlands] Patrick Puskeiler [also a blogger ] and another blogger Benjamin Bachmeier who flew with his mate Fabian Peitz, who is competing as well , in Australia and last but not least Michael Buchtal. Also Dutch pilot Alfred Paul Alfers flies in his LS 8 a in this class.
In club class ; Marco Barth just back from Leszno, Arndt Hovestadt, Swaantje Geyer and Sabrina Vogt, Wolli Beyer and Helge Liebertz and MANY more.
Day 1 in club class;
Unfortunately a bad start of the comps for Marco Barth who only got 51 points for 30 km. of flying and then outlanded. The winner Lars Hagemann flew 170 km. and received 619 points, quite a difference, but it is still only day 1. Swaantje was on 10 and Sabrina landed out after 99 km. and was one of the 10 in total in this class.
Day 1 in standard class;
850 points for daily winner Marko Zettier who flew in his Discus 2A, 248 km.Alfred Paul was on 6 [239 km] and Patrick on 7 [ 229 km] and 3 outlandings.
Tasks for today with about the same weather, less rain,  more cloud streets  due to a tough wind  :Standard 399.9 km and Club 308.5 km. Both A tasks at this stage.
OLC news
Did n't look for a while at the OLC, missed that way the nice 1000 km. by Bostjan and Tanja Pristavec in the EB 28 from Livno [ Bosnie Herzegovina] with 130 km. /h. with one leg from 350 km., nearly an out and return, up to over 4216 m MSL. And also from Livno a 820 km. flight from Milan celebrating 30 years of gliding in Europe and Australia. Seems to be a great [wave-] soaring week there. Andrej Koller flew yesterday just over 800 km and mentioned "never ending convergence lines." On August 8 he also flew 842 km. Most flights over 3000 MSL.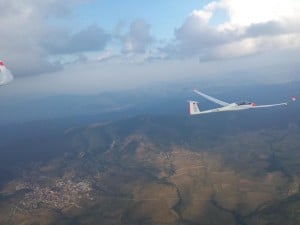 The Livno area as shared by Uros Krasovic by mobile.
Last Sunday I was more than pleased to see Hans Wiesenthal flying a 1000 again this time from Fuentemilanos. From 17 pilots flying that day he was the only 1000 km pilot. Old friends enough over there as Pepe flew 960 km. that day and Reinhard 819.
Fuente still had good flights yesterday over 800 in the Ventus 2CM.
AND,…  908 km. from Parowan in the USA in an ASH 26 E is not bad either!
Sorry that I missed a few items due to spending a lot of time on the JWGC. I still love comps and it has my" heart and soul" ! When you missed the normal soaring-eu-stuff sorry about that. Will make it up again!
To finish; Last Monday we were all sad and even a bit in shock in Holland , as in the morning Prince Friso died. He was only 44 years old .
In February 2012 he was covered by snow due to an avalanche while skiing outside the set track, in Lech in Austria. We hoped, but in fact knew, he would not survive this accident. After complications he died , in a way still unexpectedly, in the Royal Palace in The Hague on Monday morning. He will be buried by his family and friends only on Friday on a small cemetery , only 5 minutes walking from where Princess Beatrix end of this year is going to live and where Friso spend his young years!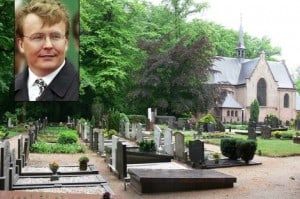 As shared by the Telegraaf on internet.
Cheers Ritz…. off to the 2 day -competition at Keiheuvel Airport in Belgium for the weekend. So the blog will be late [ don't take the laptop] on Sunday or Monday morning, just to let you know!
Written on Wednesday August 14 2013